Welcome to TakeStock, the powerful, easy-to-use, and completely FREE investment portfolio manager for Windows!

You can use TakeStock to track US and international stocks and mutual funds, get real-time (when possible) quotes and historical prices, view and compare stock charts, obtain company information, and read business news. TakeStock is a secure and free alternative to fee-based portfolio management services and commercial desktop products.

TakeStock runs under Windows 9x, ME, NT, 2000, XP and Vista,
and is based on a generic web resource provider framework I developed. TakeStock is ad-free and contains no spyware.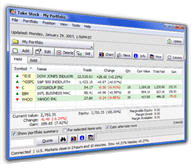 Click to view a larger image